2018 AMANJ EDUCATION CONFERENCE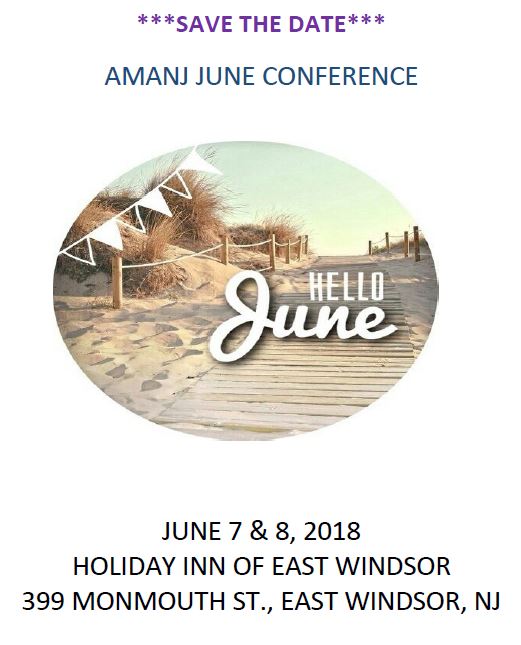 Thursday, June 7, 2018
7:30 - 9:00 am Registration
Sign in and receive conference materials, nibble, and find a
suitable spot in our comfortable meeting room.
9:00 -11:00 am AMANJ General Membership Business Mtg
(1 Administrative Credit)
The AMANJ General Membership Meeting is one of two yearly
general membership meetings where matters are presented
for action. Issues that have been before the Executive Board
are brought to the general membership for consideration.
The meeting agenda takes on the air of an educational forum
during the legislative update where AMANJ Counsel John
Lloyd provides a summary of recent NJ Tax Court rulings and
trends. An added feature of this session is the AMANJ lobbyist
report on developments in Trenton. New bills, pending legislation
and the overall political 'mood' are reviewed in detail.
Diane R. Hesley, AMANJ President
Janice S. Mironov, East Windsor Township's Mayor
John Lloyd, Esq., AMANJ Legal Counsel
Dave Smith, Princeton Public Affairs Group
11:00 - 12:00 pm Legislative Process: Bills, Committees,
Hearings, Action (1 Administrative Credit)
The NJ Legislature is the breeding ground for quiet nonstarter
bills or surprise far reaching legislation. The purpose
of this session is to familiarize conference goers with the nuts
and bolts, the mechanics of Trenton's legislative machinery.
Bill authorship and sponsorship, the Committee role, hearings
and legitimate opposing action will be explored.
Moderator: TBD
Presenters:
TBD
12:00 - 1:00 pm Past Presidents Luncheon
The first shared meal of the conference is so named to commemorate
and honor the dedication of AMANJ past presidents. Look
for those special guests to give them a warm welcome and thank
them.
1:00 - 3:00 pm Special Purpose Valuation: Restaurants and
the Rushmore Approach
(2 Appraisal Credits)
Every municipality has eateries and food service real estate.
Restaurants, at times, present valuation experts with some vexing
questions and can be atypical when considering the best approach
to value. Today's appraisal professional will introduce
methods to achieve accurate valuations and focus on the rarely
used Rushmore Approach.

Moderator: TBD
Presenters:
J. Paul Bainbridge, MAI, J. Paul Bainbridge & Associates, Inc.
Attorney TBD

3:00 - 5:00 pm Redevelopment Zones: PILOTS & Valuation
(2 Appraisal Credits)
New Jersey's aging urban and suburban areas are facing pressing
revitalization questions. With the assistance of Redevelopment
Zone legislation and Payment In Lieu of Tax programs developers
are incentivized and create possibilities for quality construction
and rehabilitation. The enabling statutes and administrative
mechanisms behind such development will be presented. But
importantly, the proper valuation of this burgeoning real estate,
will be considered by assessors and appraisers.
Moderator: TBD
Presenters:
Sue Davison, CTA
Edward Toloza, CTA, Jersey City Assessor
Paul T. Beisser, MAI, CRE Integra Realty Resources
Arthur Linfante, MAI, CRE Integra Realty Resources
5:00 - 6:00 pm Cocktail Hour
Windsor Banquet Room
6:00 - 8:00 pm Dinner
8:00 - ????? After Dinner Reception
Windsor Banquet Room
Friday, June 8, 2018
8:00 – 9:00 am Registration
Start here if coming for this day's offerings. Conference materials
can be collected and breakfast fare will be available
inside the main meeting room.

9:00 -12:00 pm Technology Today: GIS, CAMA, MODIV
(3 Administrative Credits)

Some of the newest technology and software coming into use
by the assessment professional will be displayed and demonstrated.
New approaches to the tax appeal process as well as
innovative data base management technologies will be highlighted
in this session.
Moderator: TBD
Presenters:
Paul C. Miller, Tyler Technologies
Tom C. Davis, Professional Property Appraisers
Richard Rehmann, Civil Solutions
12:00 - 1:00 pm Lunch
1:00 - 3:00 pm Drug Stores and More: Appraising the Real Estate of a Prolific Industry

(2 Appraisal Credits)
CVS, Walgreens, Rite Aid, and Eckerd sometimes occupy the
four corners of an intersection. With each competitor vying
for market supremacy their location and their real estate are
essential to success. Sites, demolition, construction and
market forces are necessary points of consideration in the
valuation of this prolific industry's real estate. These items
and more will be considered by experts in the appraisal of
today's drug stores. Additionally, an overview of related Tax
Court matters will round out the discussion.
Moderator: TBD
Presenters:
William Steinhart, MAI Appraisal Consultants (tentative)
Martin Allen, Esq.